XAMPP:
XAMPP is an easy to install Apache distribution containing MariaDB(MySQL), PHP, and Perl. It is a cross-platform tool that supports Windows, Linux, and macOS. XAMPP is a
"local server"
. We will be downloading and installing all the required things using XAMPP. Though we can install the tools separately, that can be a tedious work for beginners.
Apache webserver:
Apache is a popular open-source, cross-platform web server that is maintained by the Apache Software Foundation. The basic job of all web servers is to accept requests from clients (e.g. a visitor's web browser) and then send the response to that request (e.g. the components of the page that a visitor wants to see). The Apache web server has modules that add more functions to its software, such as MPM (for handling multi-processing modes) or mod_ssl for enabling SSL v3 and TLS support (suggested reading: TLS vs SSL).
MySQL:
MySQL is an open-source relational database management system. A relational database organizes data into one or more data tables in which data types may be related to each other; these relations help structure the data. SQL is a language programmers use to create, modify and extract data from the relational database, as well as control user access to the database. In addition to relational databases and SQL, an RDBMS like MySQL works with an operating system to implement a relational database in a computer's storage system, manages users, allows for network access, and facilitates testing database integrity and creation of backups.
PHP:
PHP is a popular general-purpose scripting language that is especially suited to web development. PHP is an acronym for "PHP: Hypertext Preprocessor" PHP is a widely-used, open-source scripting language. PHP scripts are executed on the server. PHP is free to download and use.
Perl:
Perl is a general-purpose programming language originally developed for text manipulation and now used for a wide range of tasks including system administration, web development, network programming, GUI development, and more. It is a high level and dynamic programming language.
Tomcat:
The websites can be powered with the great support of the Java language. Java is a full-fledged language and it has one of the largest communities as well. Tomcat provides a pure Java-based HTTP web server environment in which Java code can run. Apache Tomcat is an open-source implementation of the Java Servlet, JavaServer Pages, Java Expression Language, and WebSocket technologies.
Why should we use Apache Web Server?
Apache is an open-source web server which means all of its code is available for free and open for collaboration. Developers can make their modules and customize them according to their convenience suitable for their application(or website). Apache can handle large traffic only with small configurations. The most common protocol used for communication is HTTP/HTTPS. We can customize the inbuilt modules according to our convenience or even remove them for smooth performance. Few modules which we can add are SSL, Session tracking, IPv6 compatibility, Load Balancing, Server-side Programming Support for languages like PHP, Python, JS, etc. It is available on the three main operating systems, Windows, Linux, and macOS.
How to install XAMPP server?
1. Go to the following link for latest version of XAMPP:
Official XAMPP Downloading link
2. Download the suitable installer for your system.
3. Run the installer and click next for defaults until you encounter a page asking you for selecting some things to install in your computer.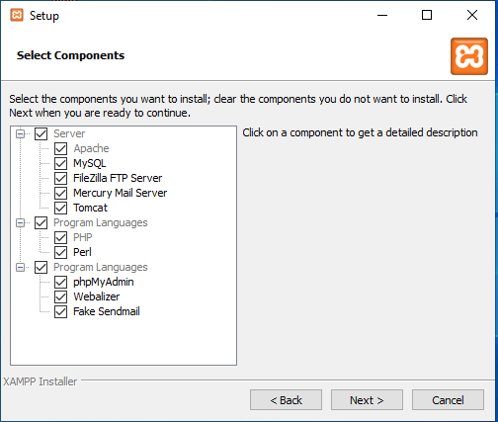 4. Select whatever tools you want to install in your system and XAMPP will do it for you.
5. After installation to start XAMPP server, open "XAMPP Control Panel" from start button(on Windows), and press "start" button in the "Actions" section to start whichever service you want.
The configuration of Apache on Linux is similar to that on Windows and macOS. The only difference is between the directory structure and installation processes. There are platform-specific tools as well, like WAMP or LAMP (W stands for Windows and L for Linux).
If you found this blog informative, leave your reviews about the blog and this website, in the contacts section at the top and bottom of the page.